Is he a real estate genius or a con artist? Continue reading to learn more about Kris Krohn, a self-described financial independence coach and host of Limitless TV.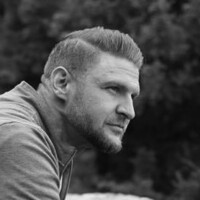 Kris Krohn quit his job at the age of 26 and became self-employed after a successful real estate investment strategy. He launched his firm three years later, and he's dedicated himself to assisting others in obtaining financial freedom.   
He now dabbles in mentality conditioning and describes himself as a freedom mentor, teaching people how to unlock their full potential and live a life without boundaries.
FACTS IN A NUTSHELL
Full Name

Kristoffer Andrew Krohn

Stage Name

Kris Krohn

Age

40yo

Date of Birth

September 24, 1979

Place of Birth

Orem, Utah

Mother 

Eileen Krohn

Father 

Klaus Krohn

Height

5'7 ft (1.75m)

Weight

89.7 kls (198 lbs)

Ethnicity

Caucasian (German)

Nationality 

American

Lives in

Provo, Utah

Hair Color

Dark brown

Eye color

Gray

Profession

Author, Speaker, Life Coach, Real Estate Expert

Education

Brigham Young University (Psychology)

Eastlake High school

Wife 

Kalenn King

Siblings

8 

Children

4 (Liesel, Kaiser & Daniel)

Zodiac Sign 

Libra

Hobbies

Snowboarding, Reading and Weight training 

Total Net worth

$ 20M

Social Media 

Website-

http://KrisKrohn.com

,

http://kriskrohn.com/event

,

https://www.kriskrohn.com/partnering

Blog- https://blog.kriskrohn.com/

YouTube- https://www.youtube.com/watch?v=2ErVEoqEoS8

https://www.kriskrohn.com/youtube-tripwire-free-book1588708884409, http://LimitlessMentor.com/TV/

Facebook- https://www.facebook.com/kris.krohn.7

Library (e-books,etc)- https://www.kriskrohn.com/kris-krohn-library-a

Limitless Tv contact- http://bit.ly/2yO78c7

Podcast- https://podcasts.apple.com/us/podcast/have-it-all/id1463222879

LinkedIn- https://www.linkedin.com/in/kris-krohn-95106852

Twitter- https://twitter.com/kriskrohnmentor?ref_src=twsrc%5Egoogle%7Ctwcamp%5Eserp%7Ctwgr%5Eauthor

Instagram- https://www.instagram.com/kriskrohn/?hl=en

How To Contact Kris Krohn

Address:  1440 N Moon River Dr. Provo, UT 84604

Email: [email protected]

Phone: (801) 691-0375

SMS: +1 (385)-217-3477 (Say "Instagram")

Associates

Nate Woodbury

,

Kevin Clayson

and

Stephen Miller

Trivia

He is fluent in German language.
Kris Krohn's Childhood
Kris Krohn was born in the Utah town of Orem. With three elder brothers, he is the fourth of nine children. His father was a German immigrant who arrived in the United States in his thirties.  
His father, Kris recalls, had a strong work ethic. His father acquired 5 acres of property for his children when they were young and urged them to work on it. In an interview, Kris stated that he disliked doing it at first, but subsequently came to admire his father for instilling in them the importance of hard work. 
Kris used to accompany his father, who worked as a contractor, when he was younger. That was the beginning of his interest in real estate. 
Eileen, his mother, was a medical assistant who completed her internship at Seattle University. She used to work in the Biochemistry department at Washington University. She is a violinist, violist, and pianist who teaches individual music lessons. 
The Dream of Kris Krohn 
Kris went to Washington's Eastlake High School. He intended to be a doctor at first, but his low average Chemistry results put a damper on his plans. 
As a result, he enrolled in the same course as his girlfriend (and now wife). He graduated from Brigham Young University with a bachelor's degree in psychology and a master's degree in marriage and family therapy in 2001.      
He worked part-time as a real estate broker in college and excelled at it, developing real estate investing techniques.  
Kris Krohn's Family: Wife and Children
Kris and his wife Kalenn married in 2007. They are currently the parents of four children. When Kris and Kalenn's kid was diagnosed with autism, they became advocates of Dr. Rashid Buttar, an osteopathic specialist who uses chelation treatment for ailments including autism and cancer.    
Their bond has only grown deeper with the passage of time. Krohn celebrated Mother's Day by sending a nice message to his wife and mother on Facebook, thanking them for everything they had done for the family.
Kris Krohn's Coach 
Kris married at an early age and had a difficult time raising his family. When he realized he wouldn't be able to attend medical school, he looked for alternative options. 
He once went to a conference and listened to an anonymous mentor, who subsequently urged him to keep working so that he could qualify for a home loan, which needs a two-year job history and a basic credit score.
This prompted him to set up money for the following 14 months, which was difficult given his low salary of $25K per year as a contact center representative and real estate agent.
By carefully managing his three credit cards over the course of a year, he was able to save $5,000 and establish a basic credit score. He purchased his first home with a $3,500 down payment and a Federal Housing Administration (FHA) loan. He rented out the basement, which paid his whole mortgage payment.
Kris Krohn: Where Did He Begin?
Kris eventually bought the house for $110,000. The house's worth climbed to $140K after a year of occupancy, giving him $30K in equity. He bought his second property with the $30K equity he had built up.
Krohn saw the possibilities of real estate investing and decided to pursue it. As a result, he stuck to his plan. His father-in-law took an interest in him and offered to assist him with more investments. He told Kris, "I'll put the money and the credit where it belongs; you identify the projects and do what you do best."
He published a book about real estate investing ideas three years later. This is the first of just a few books Kris will write, as well as the programs he will build in the next years.
The Strait Path To Real Estate Wealth, by Kris Krohn
Kris' first book covers themes such as developing a $1 million game plan and deciphering real estate investment terminologies and methods, including rental houses, flipped properties, and multi-unit residential and commercial properties.
Risk-reduction methods and creating an investor's attitude are also covered in the book.
The Conscious Creator: Six Laws for Manifesting Your Masterpiece Life by Kris Krohn
This is a self-help book that encourages readers to push through personal barriers and find their own unique life purpose in order to become more productive and inventive. Kris claims that by following one's passion and embracing authentic and empowering ideas, one may gain money. 
Kris Krohn: The sky is the limit.
The book is about living a life by design, not by default, as the title indicates. It asserts that you can have it all. It appears to be a revised edition of his prior work.
Kris Krohn's programmes 
He has two audio CD packages available: The Ultimate Investment Experience and Enlightened Finance System, each of which has seven audio CDs. 
Founder of Strongbrook Group, Kris Krohn
He co-founded The Strongbrook Group with Kevin Clayson and Stephen Miller, and he is the founder and face of the company. 
Kris Krohn and his colleagues run Strongbrook, which includes a real estate firm, a mortgage brokerage firm, property management teams, a life insurance firm, multiple holdings, and client coaching personnel.
They created these businesses to preserve and manage Strongbrook clients' wealth and assets in a comprehensive manner. These businesses serve as Kris Krohn's conduits for creating and growing their clients' real estate portfolios through referrals and direct sales.   
Kris touts himself as a proponent of partnering, which he defines as the creation of long-term and strategic connections between consumers and suppliers.
What are the prices of Kris Krohn's programs?
On his website, he gives his e-book The Strait Path to Real Estate Wealth for free, but charges for his other services. 
His 10x Real Estate training films with 12 concepts, which were initially priced at $1,689, are now available at a reduced price of $197. His Maverick program, which claims you can make millions in real estate even if you don't have any money, is priced at $8K but is only available for a short time for $997. The Lease Option Pro 5K club offers to teach you how to raise $5,000 without spending any money.  
Disclaimer from Kris Krohn 
Kris gives a disclaimer on his Limitless TV YouTube channel, saying, "Kris Krohn is not in the business of providing personal, financial or investment advice and specifically disclaims any liability, loss or risk, which is incurred as a consequence, either directly or indirectly, by the use of any of the information contained in this document." 
It also emphasizes that none of the materials provide professional services, and that he does not recommend any particular investments, investment strategies, advisers, or financial service businesses.
Is Kris Krohn a Scam or Legit?
Because of the various reactions to his programs and claims, it's difficult to give a definitive answer to this topic. Here's an example of negative Reddit comments, with some accusing him of being involved in a multilevel marketing (MLM) operation.  
According to Goodreads, his book The Strait Path to Real Estate Wealth had mixed reviews, with the majority of them verging on good. His previous novels garnered mostly positive feedback as well.  
The SEC's Complaint from 2012 
The Securities and Exchange Commission charged Kris, his brother Michael, and Stephen R. Earl in 2012, alleging that their real estate investment business, The Companies, defrauded 169 investors by overvaluing the properties to be acquired and overstating the financial soundness of their operations. 
The SEC filing went on to say; "To raise money to purchase real estate, The Companies or its subsidiary, Alpha Real Estate Holdings, L.P. ("Alpha LP"), initiated four unregistered offerings of securities from January 2009 to June 2011. The four offerings raised a total of approximately $11.9 million from approximately 169 investors." 
In 2008, Krohn and Earl founded The Companies to manage their other enterprises, including the Real Estate Investors Club (REIC). An investor or member of REIC pays $8K for tuition and assistance in acquiring properties that may be rented out and then sold for a profit, exactly like Krohn did when he first started.
Krohn vs. No Case Filed
The three, on the other hand, resolved the matter before the federal regulators could initiate a lawsuit. They agreed to pay $75K apiece and to refrain from violating US securities laws in the future. Payment, on the other hand, is neither an acknowledgment of guilt nor a rejection of the facts of the case.
"The Companies" was obligated to inform all investors of the settlement, furnish them with audited financial documents, and refund their funds.
"The Companies" has subsequently been renamed Strongbrook Group, but is still unaccredited by the Better Business Bureau, owing to the fact that they did not apply for it. 
Kris Krohn's net worth is unknown.
| | |
| --- | --- |
| Estimated Net Worth 2020 | $20M |
| How Much Did Kris Krohn Earn Last Year? | $3M |
| What Are Kris Krohn's  Income Sources? | Properties, Programs, Social Media, Speaking engagements  |
| How Much Does Kris Krohn Earn From His Properties? | $2.9M |
| How Much Does Kris Krohn Earn From His Programs? | $35K |
| How Much Does Kris Krohn Earn From Social Media? | $25K |
| How Much Does Kris Krohn Earn From Speaking engagements? | $40K |
What is Kris Krohn's source of income?
Kris claims to own 400 homes, and his organization has handled over $400 million in real estate transactions.
He continues to rent-to-own houses as well as sell and rent assets. 
On his website and other online platforms, Krohn has established training programs and e-books. According to a forum poster who enquired about Krohn's partnership scheme, one must pay between $10,000 and $25,000. The purchase price ranges from $2K to $5K, and each property has a 50/50 equity share. He noted that a partner may theoretically make 10% to 12.5 percent each year. 
Krohn speaks at conferences about his Limitless book, which focuses on personal growth and mindset conditioning, as a motivational speaker. In addition, he continues to host $497 real estate conferences. 
Kris Krohn's Car and Residence
Kris drove his BMW I8, which cost at least $150K, and showcased one of his homes on YouTube in 2018 to establish that he is not a con artist.