Here you'll find all you need to know about celebrity chef Myron Mixon. What country is he from? What kind of grills, rubs, and sauces does he use? What is your net worth?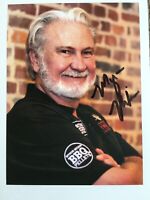 Celebrity chef Myron Mixon, dubbed the "Winningest Man in Barbecue," isn't only a champion in the kitchen; he also appears to be a winner in life. This four-time world barbecue champion has won over 200 grand championships, published four cookbooks, opened three restaurants, founded a successful barbecue cooking school, and developed a line of popular grills, cooking sauces, and rubs. But hold on! There's more! He is also the mayor of Unadilla, Georgia, where he was born and raised. Continue reading to discover how Myron Mixon can't be stopped when he's fired up and cooking. 
MYRON MIXON FACTS
FULL NAME

Myron Mixon

REAL NAME

Myron Mixon

ALSO KNOWN AS

The King of BBQ

The Winningest Man in Barbecue

DATE OF BIRTH

30 May 1962

AGE

57 years old

ASTROLOGICAL SIGN

Gemini

BIRTHPLACE

Vienna, Georgia USA

RESIDENCE

Unadilla, Georgia

NATIONALITY

American

ETHNICITY

Caucasian

OCCUPATION

Celebrity Chef, Reality Show Competitor and Judge, Entrepreneur, School Owner, Author, City Mayor of Unadilla, Georgia 

SPOUSE

Faye Mixon

CHILDREN

4: Kylie Mixon, Michael Mixon, David Mixon, Cory Mixon

PARENTS

Jack Mixon, Gaye Mixon

TWITTER ACCOUNT

https://twitter.com/Lord_of_Q

FACEBOOK PAGE

https://www.facebook.com/LordofQ/

INSTAGRAM PAGE 

https://www.instagram.com/myron.mixon

MYRON MIXON SMOKERS INSTAGRAM PAGE

https://www.instagram.com/myronmixonsmokers/

MYRON MIXON PELLETS INSTAGRAM APGE

https://www.instagram.com/myronmixonpellets/

MYRON MIXON PITMASTER BBQ INSTAGRAM PAGE 

https://www.instagram.com/mmpbbq/

WEBSITE

https://myronmixon.com/

JACKS OLD SOUTH RESTAURANT SITE

https://www.jacksoldsouth1.com/
MYRON MIXON NET WORTH
| | |
| --- | --- |
| ESTIMATED NET WORTH FOR 2020 | $3 Million – 6 Million |
| PREVIOUS YEAR'S NET WORTH (2019)  | $1 Million – $5 Million (approximate) |
| ANNUAL INCOME  | Estimated to be over $1 Million |
| INCOME SOURCE | Royalties from reality tv shows, his sales from barbecue grills, tools, rubs, sauces and apparel, sales from his books, revenue from his restaurants and tuition fees from his cooking school |
WHERE DOES MYRON MIXON GET HIS MONEY?
Myron Mixon is known as the 'Winningest Man,' and it's clear that he's not just winning in barbeque, but also in his profession. Myron appears to be a shrewd businessman, marketing his own brand of barbecue grills, rubs, pellets, sauces, and clothes, as if being a four-time BBQ world champion and winner of over 200 grand championships wasn't enough. But wait, there's more: he also runs a BBQ cooking school out of his Unadilla, Georgia, home. He's also the author of four cookbooks, one of which has a foreword by Paula Deen, the queen of southern baking and cuisine. Aside from that, he owns three restaurants, one in Georgia, one in Chicago, and one in Virginia. Last but not least, he is the current Mayor of Unadilla. 
It's hardly shocking to learn that Myron's net worth was estimated to be $1-5 million last year. When Myron Mixon is fired up and hard at work, he's unstoppable, much like his cooking style and barbeque grills. 
WHERE IS MYRON MIXON FROM?
Myron was born and reared in Vienna, Georgia, and is a true southerner. He currently resides in Unadilla, Georgia, where he serves as Mayor.
MYRON MIXON LIVES IN WHAT CITY?
Myron Mixon was born and raised in Georgia. He grew up in Vienna, Georgia, and now resides in Unadilla, Georgia (population: 3,589 in 2018). He is also the mayor of Unadilla at the moment. Faye Mixon, Myron Mixon's wife, is the Tax Commissioner of Unadilla, a city in Dooly County.
INFLUENCES OF MYRON MIXON / HOW DID HE GET INTO BARBECUE? 
Barbecue runs in Myron Mixon's family. His parents, Jack and Gaye Mixon, invented a barbecue sauce, and Myron began competing in barbecue competitions to sell his family's sauce. 
His father, Jack, was the one who taught him how to grill. Myron learned how to grill the old-fashioned manner, using the "low and slow" method, which involves cooking meat at a low temperature (about 225 degrees) for several hours. Myron tells a Chicago Tribune interview, "That's the way it's originally done. That's how I grew up cooking and my dad did it that way 'till the day he died." 
Jack's Old South is the name of Myron's restaurant/barbecue firm, which he named after his father. 
WIFE OF MYRON MIXON
Faye Mixon is Myron Mixon's wife. Although we don't know how long they've been married, we can assume they've been together for a long time because all of their children appear to be in their late twenties and early thirties. Faye appears to be interested in public service, and in February of 2020, Myron Mixon asked for help from Dooly County (Georgia) residents to re-elect his wife Faye as Tax Commissioner on his Facebook page. Faye Mixon is listed as the Tax Commissioner on the Dooly County website, with her current term ending on December 31, 2020.
CHILDREN OF MYRON MIXON
Kylie, Michael, David, and Cory Mixon are Myron's four children with Faye. Michael Mixon appears to be following in the footsteps of his father. He is a Food Network TV Host / Personality who describes himself as a "Fourth-Generation BBQ Pitmaster."
AWARDS FOR MYRON MIXON
Myron Mixon proudly showed off his living room, which has been transformed into a trophy/awards room, in an interview with CBS This Morning. With so many wins and honors under his belt, he truly deserves his own trophy room.
In 1996, Myron Mixon competed for the first time in Augusta, Georgia. He won first place in the whole hog competition, first place in the pork ribs competition, and third place in the pork shoulder competition.
Since then, Myron Mixon has won four World Championships in barbeque. He has won more than 200 grand championships and more than 1,800 prizes in total. He won 30 state titles, eight team of the year trophies, and eleven national titles.
His team has placed three first place whole hogs at the prestigious Jack Daniels World Championship Invitational Barbecue Competition. Myron has also been the Grand Champion at the World Championship in Memphis in May three times in 2001, 2004 and 2007.
He's also won the World Championship three times in the Whole Hog category, in 2001, 2003, 2004, and 2007. His team is the only one to have won Grand Championships in the Memphis, Kansas City, and Florida BBQ Associations in the same year.
Myron Mixon was inducted into the prestigious Barbecue Hall of Fame in Kansas City in 2013. According to the American Royal's website, induction into the Barbecue Hall of Fame is barbecue's highest honor, and honorees are honored for substantial accomplishments to the barbecue community.
Myron Mixon received the Carolyn and Gary Wells Award in 2018.
 "Pioneer of Barbecue" Award by the Jack Daniel's World Championship Invitational Barbecue. 
RESTAURANTS MYRON MIXON
Myron's first restaurant was called 'Jack's Old South' Barbecue and was named after his father. It's in Unadilla, Georgia, where he grew up.
Myron Mixon's Smoke Show BBQ, his first restaurant, debuted in Chicago lately.
Myron is also a partner in the Alexandria, Virginia restaurant 'Myron Mixon's Pitmaster Barbeque.'
BOOKS BY MYRON MIXON
Ballantine Books signed Myron Mixon to a cookbook deal in 2010. His first book, "Smokin' with Myron Mixon: Backyard 'Cue Made Simple with the Winningest Man in Barbecue", has a foreword from the legendary southern baking and cooking expert, Paula Deen. Although the book has mixed reviews, Myron went on to write three more books:
"Everyday Barbecue: At Home with America's Favorite Pitmaster" (2013), "Myron Mixon's BBQ Rules: The Old-School Guide to Smoking Meat (2016), and the latest, "BBQ &A with Myron Mixon: Everything You Ever Wanted to Know About Barbecue". (2019)
CELEBRITY CHEF MYRON MIXON
Myron Mixon was a competitor on TLC's reality TV show BBQ Pitmasters in 2009. The show featured a group of barbecue cooks as they competed in various tournaments. Myron participated as a judge in the second season of BBQ Pitmasters, as the format shifted to a competition-style game show. Myron also served as a judge for the show's third season, which featured the concept 'Destination America,' in which the chefs and judges traveled throughout the country to defend their titles in America's most hot barbecue competitions.
According to Myron Mixon's IMBD profile, he has guested on over 14 shows since 2009, including appearances on the Steve Harvey TV Series, Live With Kelly and Ryan, and, most recently, Fox and Friends from 2017 to 2019.
MIXON, MYRON THE BUSINESS OWNER
Myron has made the most of his reign and reputation as "The Winningest Man in Barbecue." Who wouldn't want to be grilled Myron Mixon after winning so many championships and becoming a four-time world champion?
Well it appears, you can too, if you purchase one of the Myron Mixon BBQ grills and smokers that "allow you to truly become the master of the pit."
His smokers/grills range in price from hobbyist to commercial, as shown on his Instagram account.
Myron has also designed his own brand of barbecue pellets, "Myron Mixon Barbecue Pellets," a range of kiln-dried Tennessee manufactured natural wood barbecue pellets, as a great complement to the grill. Sweet Smoke Cherry, Orchard Mix, Hickory, and the unique Myron Mixon blend are the four smoke 'flavors' available. The pellets have their own Instagram account as well. 
In addition, Myron's website has a shopping area where he offers his own line of rubs and sauces. The rubs come in flavors like 'Huney Muney Cluck Rub' and 'Rubba Dub Meat Rub,' which are billed as'seasonings and spices mixed for championship taste.' The sauces, which are billed as "liquid gold" for anything you cook, come in a range of flavors, ranging from simple "BBQ Hickory Sauce" to "Set Yo Ass Afire BBQ Sauce."
His internet shop also offers aprons, hats, shirts, and vehicle tags that use Jack Old South (his restaurant) logos.
COOKING SCHOOL OF MYRON MIXON
Myron Mixon and Jimi Hendrix are both iconoclasts, according to this Chicago Tribune story. Myron Mixon has greatly simplified the procedure of smoking meat, similar to how Jimi Hendrix played the guitar with his teeth when most others were still finger plucking. He's cut the customary smoking time from hours to minutes (or even days).
Myron's objective for cooking meat in contests and for his restaurants is 'hot and rapid,' rather than the more traditional and slower manner. For example, instead of using the typical "low and slow" approach, he will cook a brisket at roughly 300 degrees, allowing the meat to spend half as much time on the smoker.
Barbecue and smoking fans will be pleased to learn that Myron has started a grilling culinary school. Myron has dubbed it "Jack's Old South Cooking School," after his father, and defines it as a school for the novice, enthusiast, skilled chef, and barbecue competitor.
His seminars are held at his house in Unadilla, Georgia, over the course of two days.
MAYOR OF UNADILLA, GEORGIA, MYRON MIXON
In January 2016, Myron Mixon was inaugurated in as Mayor of Unadilla, Georgia, where he was born. This tweet of Myron dated 13th of January 2016, says "Today, I got sworn in as Mayor of Unadilla, Georgia. Let's make Unadilla great again."
Unadilla is a second-class city with a population of 3,626 people, according to the city council website.